A recent tree planting session, in the garden of the 10th Battalion Memorial at Burrough on the Hill, marks the start of the joint venture between charities, 'Friends of The Tenth' and 'HighGround'
Horticultural charity, HighGround, who are based at the Defence Medical Rehabilitation Centre, Stanford Hall, Loughborough, together with David Greaves Landscape Design and Construction, have very generously offered to complete the design, construction and maintenance of the garden surrounding the new memorial to the World War 2, 10th Battalion, the Parachute Regiment. The memorial is sited at the entrance to the Matt Hampson Get Busy Living Centre, who are also working with both charities.
On Tuesday, the team from HighGround planted three specimen trees. Along with hundreds of maroon tulip bulbs, the trees were donated by former 2 Para, Alan Staff from Great Bowden. Unfortunately, Alan was not well enough to attend the planting.
The garden will ultimately include parachute regiment maroon roses, named 'Friends of The Tenth' especially propagated and donated by David Austin Roses. As well as heather from Ginkel Heath near to Arnhem in The Netherlands, this is where the parachute battalion dropped in September 1944. From the 582 men who dropped into Holland, two weeks later only 36 returned to their HQ in Somerby.
Work in the garden will be carried out by patients from Stanford Hall as part of their rehabilitation programme organised and aided by the Friends of HighGround:
https://highground-uk.org/support-us/how-to-get-involved/
Sculptor, Graeme Mitcheson, is currently constructing two stone benches which will soon be installed in the garden, facing the memorial and looking over and across to the valley where the battalion practised parachute drops and training exercises in 1944 prior to The Battle of Arnhem, the battle for 'The Bridge too Far'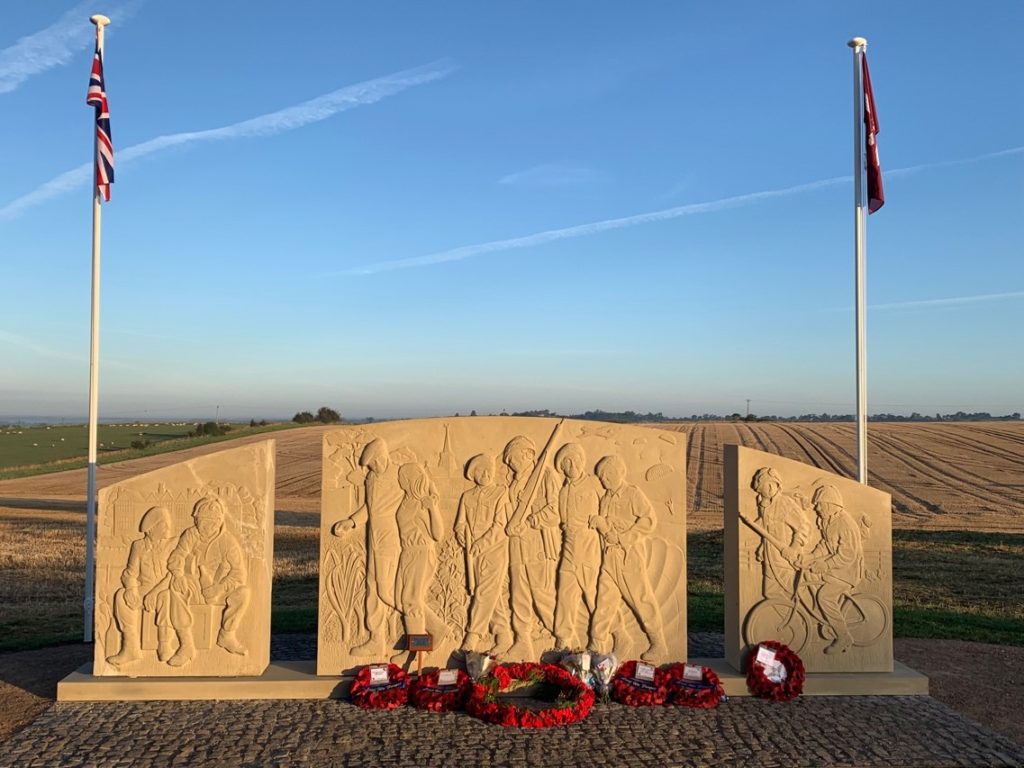 Find out more by visiting the websites of the two charities: –