Pam Henry Lamm 1920 – 2021
It is with great sadness that we report the passing of Pam Henry-Lamm in Auckland, New Zealand. Pam passed away on Thursday 9th September, Pam would have celebrated her 101st birthday on the 10th November.
For the unveiling of the 10th Battalion in September 2019, Pam recorded this poignant yet uplifting video message which formed a major part of the film 'Remembering The Tenth', available from Friends of The Tenth.
Her daughter, Anna, told that after a fall on Tuesday and unsuccessful surgery, Pam died peacefully and without pain on Thursday 9th September. At the annual Memorial Service for the Battalion, on Saturday 11th September 2021, founder member, Jeanie Holland, laid a wreath for Pam. We have lowered our flags in Pam's honour and memory.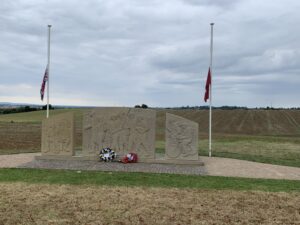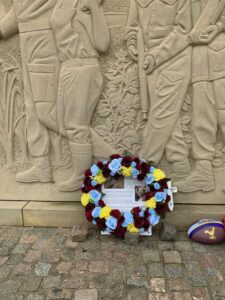 Pam is the widow of the Battalion's Intelligence Officer, Captain Myles Henry. Myles was killed in action on the 19th September 1944. He was killed during the carnage of the Battalion's withdrawal across the Polish Glider Landing Zone.
This is Myles' and Pam's Story
Myles, Pam and the Stag & Hounds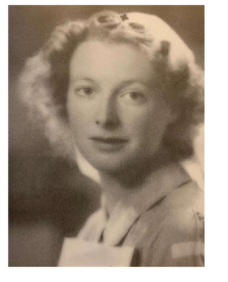 Snow was falling when the 10th Battalion, The Parachute Regiment, arrived in this area on 10th December 1943. Most of the men had been serving in North Africa, the Middle East and Italy for 18 months or more. Captain John Myles Henry was 23 years old and the Battalion Intelligence Officer.
He and Pamela Morris were married in London on the 27th December and after honeymooning in the Savoy Hotel, the Cotswolds and Brighton, arrived at Burrough on the Hill early in January 1944. Their billet was to be the Stag and Hounds.
Pam takes up the story:
High on a hill, surrounded as far as the eye could see by snow- covered fields, stood a lonely pub.
Howling gales had battered its grey stone walls for centuries, but inside the warmth of old-fashioned hospitality prevailed. For Myles and me it was the perfect billet as, being so small, it contained only two bedrooms. One for the landlord and his wife, and one for us. A diminutive chamber, almost entirely filled by the huge bed, whereon reposed a genuine goose-feather mattress, into which we sank as if on a billowing cloud.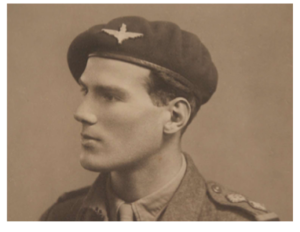 Each morning, after my husband had departed to his duties, our solicitous landlady served me a vast breakfast in this feathery nest. Bacon, eggs and sausages! I could not believe my eyes. Were there no rationing problems in this remote countryside?
As evening approached, I would wait for the sound of a jeep to roar up the road, bringing Myles home. After dinner we would be joined by cheery parachute officers around the blazing fire in the tiny saloon bar.
Amongst them, if I remember rightly, was Lionel Queripel, who won a posthumous Victoria Cross, and others whose names would soon be legendary.
This saloon bar, which also acted as my sitting-room during the day, adjoined the public bar, where paratroopers sat on old oak settles nursing mugs of beer, their large frames filling the restricted space; and such was the camaraderie between these men that often bantering conversations flowed between both bars, roars of laughter filling the smoky rooms. I felt honoured to be accepted by these stalwarts, but, although I took long walks along the ice-glazed roads, I never discovered where their headquarters lay (Somerby House, Burrough Court).
In the early hours of 18th September 1944, the Battalion was lorried to Spanhoe Airfield where they emplaned for Operation Market Garden- the famous the Battle of Arnhem. Some two weeks later from the 582 men who left, only 36 returned to the 'Welcome Home' party in Somerby laid on by the local ladies and Land Army girls.
Myles never returned. On the 19th September he was killed by a burst of machine gun fire near Johannahoeve farm, Oosterbeek. His best man at his wedding, Lt Leslie Kiaer, was also tragically killed the following day by an exploding mortar bomb. Both men are laid to rest at the Arnhem Airborne Cemetery, Oosterbeek, the Netherlands.
Pam received a telegram on 29th September that Myles was 'Missing- believed killed'. Pam's labour pains started shortly afterwards and their daughter, Anna, was born.
Myles' grave at Arnhem War Cemetery, Oosterbeek, Netherlands