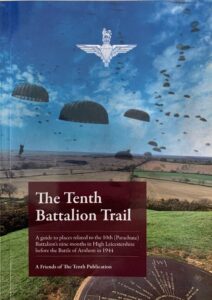 The Tenth Battalion Trail is not merely the title of this book – the trail really exists.
Some time ago we began the installation of several maroon heritage plaques to mark the locations where the 10th Battalion was billeted during 1944, before leaving in September for the disastrous Operation Market Garden or Battle of Arnhem. These locations are in Somerby, The Burrough Court Estate, Thorpe Satchville and Owston.
We then set about linking these various locations by a trail – in fact more than one  trail, routes that can be negotiated either by foot, on a bike or in a vehicle. The walking trail is 15 miles and takes in some quite glorious countryside. The walk takes you to the summit of Burrough Hill Fort which boast one of the finest panoramas in Leicestershire. You will visit the villages of Burrough on the Hill, Thorpe Satchville, Somerby and Owston and along the way are a number of places to eat and drink, also the village shop in Somerby. The walking trail is marked with 10th Battalion way-markers – keep your eyes peeled for these.
In order to find your way, whether you are walking, cycling, motor-cycling or driving, the guide book is invaluable. But not only does it point you in the right direction, it also offers information on places to stay, to eat and drink. There is a concise, yet comprehensive, history of the Battalion, as well as detailed information and history about the various locations, including the departure airfield – RAF Spanhoe, some 20 miles from Somerby.
BUY THE BOOK and WALK THE TRAIL, you will be helping Friends of The Tenth.
This project has not been cheap, the installation of plaques and way-markers and the production and cost of the guide book has cost just short of £10,000. You can help us to recover some of the cost merely by buying a copy of this terrific little book, which at £15 is excellent value. You can also, of course, make a donation to our charity on the home page of this website.
With 115 pages and more than 90 illustrations, mostly in full colour, the Tenth Battalion Trail is available to buy in the shop section of this website.