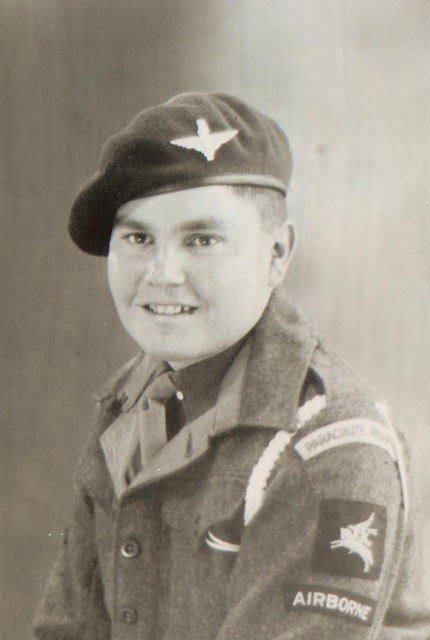 10th Battalion, Parachute Regiment
1922-2019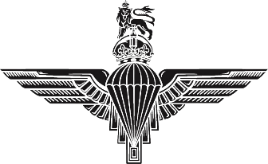 William was born in Islington, London, on 21st September 1922 to proud parents Thomas and Florence and lived his early life in Queensland Road, Islington, which now adjoins and forms part of the new Arsenal Emirates football stadium complex.
His father was to pass away in 1936, and the young teenager William was consequently raised by his widowed mother. During the early part of WW2, they moved to Cavendish Buildings, in Clerkenwell, London, very close to where another surviving 10th Battalion veteran nonagenarian – Vic Gregg, lived, although they were unknown to each other at this time.
Prior to the outbreak of war, the 17-year-old William was working as a farmworker and all men between 18 and 41 were liable for conscription into the armed forces. However, in 1938 a Schedule of Reserved Occupations had been drawn up, exempting certain key skilled workers from conscription to prevent the repetition of the chaos experienced during WW1 where men from key industries and occupations, rushed to enlist causing massive manpower shortages in certain key industries. These included railway and dockworkers, miners, farmers, agricultural workers, school teachers and doctors.
William, as a farmworker, frustratingly found himself in a reserved occupation whilst his contemporaries were signing up to fight for their country – a difficult situation in which over 1 million young men found themselves in.
However, William was keen to 'do his bit' and immediately enlisted into the Home Guard, as too, did countless other men who were working in 'Reserved Occupations' at this time.
By 21, William's liability under the Reserved Occupations scheme ended and he immediately volunteered to join the Army, enlisting in early 1943 at York, where he was posted into the Rifle Brigade, an infantry training depot battalion which had just returned to the UK from fighting in the North African campaign. William was to find basic training relatively easy due to his level of fitness from being a farmworker and the basic military 'experience' he had gained within the Home Guard.
With basic training completed, William decided to join a Machine Gun Battalion and found himself posted to the Cheshire Regiment who were based at Chester. For the following four months, he undertook an extensive training course to become a member of a mechanised five-man Vickers medium machine team.
It was In late summer 1943, just as this course was finishing, that a lecture and demonstration was held at Chester by the Parachute Regiment who were recruiting for volunteers. Impressed at what he saw, and the fact that his pay would double if he was accepted, he asked the recruiting team whether 'men who were only 5 feet 5 inches were accepted!' The answer was a definite 'yes' and he signed on there and then!
Following the successful completion of a two-week aptitude training course held at Hardwick Hall In Derbyshire, William completed his parachute training at the No 1 Parachute Training School at Ringway, where he was awarded his wings and maroon beret. He felt proud of this achievement especially as he was scared witless of heights, but strangely, not so when jumping at 1000 feet from an aircraft!
In February 1944, William was subsequently posted to the 10th Battalion, Parachute Regiment, who had arrived back in the UK during December 1943 from the Italy Campaign. With his previous training as a Vickers gunner, he was fully expecting to be assigned to Support Company where he would be allowed to develop these skills. The initial euphoria of being told that he was definitely 100% being allocated to Support Company was to be short-lived.  Certainly, he was to find himself in Support Company but not as part of the Medium Machine Gun Platoon, but rather the Anti-Tank Platoon as a PIAT gunner (of which he knew absolutely nothing about) under the knowledgeable and watchful eye of Sgt Ralph 'Joe' Sunley!
After the interminably long wait to go into action during most of 1944, and the frustration of being part of fifteen cancelled operations, the 10th Battalion finally went into action as part of the 2nd Lift on Operation 'Market Garden'. On the 18th September, William and his fellow Battalion comrades dropped into occupied Holland at Arnhem as part of the 1st British Airborne Division. Their objective was to secure and hold the Arnhem bridge and its surrounds for 60-72 hours and await the arrival of the  British 30th Corps advancing northwards from the Dutch border some 60 miles or so away. They eventually held on for 9 days against fierce opposition from German SS Troops, and 30th Corps were never to achieve the north side of the Arnhem bridge.
The 10th Battalion, with the rest of the 4th Parachute Brigade, landed in the midst of two armoured SS panzer divisions who were refitting in the Arnhem area at the time, and following the arrival of the British 1st Lift the previous day, they knew the 2nd Lift was due. Consequently, the Battalion dropped into an enemy-held 'hot' drop zone where many men became casualties as they fell through the air and as they landed.
On Tuesday, 19th September the Battalion was involved in their fiercest fight of the operation where they were stopped by an armoured SS 'Blocking-line' nearby La Cabine pumping station on the Ede-Arnhem road. On this day, the Battalion was to suffer the highest death casualty rate of any unit involved in the fighting at Arnhem.
William and his PIAT team were initially held in reserve but were then deployed to assist Captain Lionel Queripel's A Company who were being confronted with German armoured vehicles in the vicinity of the De Leeren Doedel crossroads. Several direct hits on buildings and vehicles were made by William's team and they soon depleted all their held ammunition. Left with an empty PIAT, and with only a revolver as his personal firearm, William was soon given a rifle belonging to a wounded comrade and quickly impressed into service as a fighting member of A Company in one of their platoons.
Overnight and throughout the following day, as the withdrawal into the 'relative safety' of Divisional Perimeter was attempted, Battalion numbers were being rapidly eroded by continual casualties and men being captured as prisoners of war as the Battalion became further fragmented. Only 60 men managed to make it back to Divisional HQ. William was one of the many men who were taken POW during this period and never made it back to the Perimeter. He enjoyed the 'luxury' of spending his 22nd birthday, the day after his capture, in an enemy POW holding area in Arnhem awaiting transportation to Germany and incarceration.
By the end of the Battle, the 10th Battalion had virtually ceased to exist. Of the 582 men of the Battalion who had dropped into Arnhem, only 36 were to return to the UK on the 30th September. The remainder either lost their lives, were wounded or were taken into captivity as a prisoner of war.
On his capture, William was firstly sent to Stalag 12A at Limberg in Germany, as too, were most of the early POWs from the battle. Here he was documented, interrogated and later moved to Stalag 4B in Muhlberg. Just before Christmas 1944, William was finally moved to a labour workcamp in Zeitz where he remained until April 1945.
A few days before liberation from captivity, William and the other POW's working at the Zeitz workcamp were force-marched westwards, away from the advancing Russians, and headed towards American lines. After three days march, the German Warrant Officer in charge of their party suddenly announced that over the top of a nearby hill,  American forward troops had been located and that, if they were still there by morning his intention was to hand over the POWs and to surrender his own troops into their custody. The following day William was free.
After being passed back through American lines, and the required 'de-lousing' sessions, William was back in the UK four days later and immediately sent on 3 months recuperative leave.
At the end of his leave, and considerably heavier due to his mothers cooking, William reported back for duty. Sadly, he found that his beloved 10th Battalion no longer existed as it had been disbanded after Arnhem due to the large losses it had incurred and had been absorbed into the 2nd Battalion, Parachute Regiment who had also suffered equally grave losses during the Arnhem campaign.
By November 1945, men were beginning to be demobbed and William thought his turn would come sometime the following year.  In April 1946, a government policy was brought in for all serving men whose ' services were deemed of more value to the country in Civil occupations rather than military employment ' was invoked which saw William transferred to the  Army W(T) Reserve where he would be liable for recall at any time. As an experienced agricultural worker William quickly found himself in a workers hostel in Stratford on Avon working on locals farms, – a long way from his roots in London!
Sure enough, In February 1947 William found himself recalled to the colours and returned back to the Parachute Regiment serving on an emergency tour of Palestine and the Middle East until November 1947 where he again was returned to the Reserve as the Parachute Regiment reduced and merged Battalions and became the 16th Parachute Brigade.
With the Army clearly in his blood, William decided to re-enlist in 1950 joining the Royal West Kent Regiment. After serving almost three years he again transferred back to the Parachute Regiment and served in the Middle East and throughout the Suez Crises during Operation Musketeer in the mid-1950s.
In early 1955, he married his fiancée, Marguerita (Rita) and there followed the births of their eight children born between  1956 and 1964 which completed their family unit,
By 1958, William had been promoted to Corporal but, with further cuts to the Parachute Regiment he was transferred back to his previous Regiment- the Royal West Kents. He was immediately sent to Cyprus serving for over a year as part of the British contingent involved in combating EOKA, the right-wing  guerrilla movement pressing for Greece- Cyprus unity and independence from Britain
From 1959 through to 1965, William was posted back to the UK, where he became a Vickers Medium Machine Gun Instructor at various Infantry training centres such as Colchester, Folkestone and Canterbury. During this period his regiment- the Royal West Kents together with the Royal East Kents (The Buffs) amalgamated to form the Queens Own Buffs, which in turn was further renamed the Queens Regiment in 1966, William served in the 2nd Battalion.
From 1965 to 1967, after his period as a gunnery Instructor ended, William returned to his regiment and was posted to Gun Club barracks in Hong Kong during which time he saw action for the final time during an emergency 4-month tour of Borneo as part of the British force's campaign in the Indonesia-Malaysia conflict.
William's final move was with the 2nd Queens Battalion to Northern Ireland on a 2-year family-accompanied posting where he was stationed in Place Barracks, Hollywood, Co Down. By 1969, further cuts to the service were being made and William, as long-service soldier and aged 47 years, left the Army in April 1968 after an accumulated service of over 20 years and, promptly decided to emigrate his entire family and start a new life for them all, halfway around the world in Australia!
Flying out from the UK in May 1969, he eventually arrived with his young family in Western Australia. After a short reception period, William moved his family to the township of Armadale, Western Australia some 35 km south-east of the city of Perth.
William took up employment in Australia as a postman, a job he was to enjoy for 13 years until his retirement in 1982. He never learned to drive until he was in his 50's and, until he passed his test and bought a car, he would ride his bicycle 10 miles to work at 5 am, do a 20 mile mail round and then ride 10 miles back home again just each day, just in time to cook tea and help with the housework. He did that for about 3 years.
He was passionate about sports, especially his beloved Arsenal Football Club, as well as cricket and following the 'West Coast Eagles' Australian Football Team,  and he was a very good Table Tennis player- his children could never beat him!.
His interests were his family, stamp dealing and collectables, also reading anything about Egyptology, He regularly returned to England over the years for holidays and buying trips for his various hobbies. In later years he loved to go cruising, his first trip being from Southampton to New York in or around 1988, and thereafter mainly around South East Asia region.
William quietly passed away in his sleep on the 26th September 2019, aged 97,  lovingly surrounded by his family. He is survived by his eight children, 26 Grand-children, and 25 Great Grand- Children who, for the preceding 50 years, he was to see all raised as proud Australians.
Lest we Forget
Complied by  Friends of the Tenth, in memory of our dearly departed comrade- William Courcha.