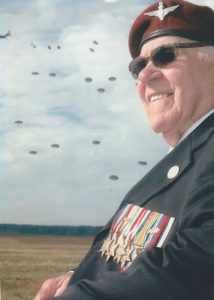 HARRY Roberts Houghton was born in Liverpool and lived in Newcastle when he enlisted into the British Army.
He served in the Highland Light Infantry prior to volunteering for British airborne forces whilst deployed in Egypt. Sgt Harry 'Darkie' Houghton joined the 10th Parachute Battalion and at one stage served as Provost Sergeant. He was serving as Platoon Sergeant with 3 Platoon, A Company, by the time the battalion dropped onto Ginkle Heath on 18 September 1944 during Operation Market Garden.
Harry was seriously wounded at the cross-roads in Oosterbeek along with his Commanding Officer, who later died of his wounds, when they had gone to help two gunners who were trying to hook up a six-pounder gun onto a jeep. The leather wallet, and the enclosed family photographs, which Harry was carrying in his breast pocket, a 21st birthday present from his sister, slowed the impact of a German bullet and no doubt saved his life. Harry was later awarded a Mention in Dispatches.
He was moved several times to safe-houses as the enemy were taking over the centres being used for dressing stations. Harry refused offers to take him towards the Rhine, because he would be a burden to the able-bodied, and was eventually taken prisoner.
After a short time in a German military hospital in Dusseldorf, he was taken to Stalag 8C, close to the borders of Germany and Poland. Life was hard but release came when the Russians advanced. Harry trekked through Poland to meet the Russians who provided cattle trucks to get the soldiers home. The sea journey home from Odessa was long and difficult as Harry spent the trip in the hospital with a relapse of malaria.
He returned to Liverpool, via Glasgow, and was given several months leave before finally being discharged for 'ceasing to fulfil Army physical requirements'. As a man keen on fitness this was a hard line for him to accept.
Harry returned to civilian life, his old job, friends and family and married his sweetheart in 1947 and became a father in 1949. He worked long hours and dedicated himself to the family.
The war had however changed his life and recurrent nightmares around mid-September were to return every year for the rest of his life. Harry coped and was, as the years progressed, comfortable to talk more freely about his wartime experiences and regularly met with other veterans. He also attended local schools to talk with groups of pupils and to address larger groups during school assemblies.
Harry died in March 2011. His military-style funeral at the Parish Church of St Nicholas, Whiston, was a rousing celebration of a long life, lived to the full. Many friends and family joined in the service which had been primarily organised, and was well attended, by the Merseyside Branch of the PRA, together with the Redditch Branch of the PRA and also the Alvechurch Ex-Services Association. Several Arnhem veterans were also able to attend, including one who had travelled from Scotland for the service and the Dutch family who had hosted Harry in Oosterbeek for many years also attended.
His ashes were taken to Arnhem and he made his 'final jump' onto Ginkel Heath on 17 September, beneath the 'chute of Captain Sean Phillips, 4 PARA. After the jump, on 18 September, Harry's ashes were interred, during a brief ceremony, close to the spot where the 10th Battalion had landed in 1944.
This short biography was compiled by Harry's daughter, Jeanie Holland, a founder and active member of Friends of The Tenth. Jeanie accompanied Harry on his many returns to the Arnhem Commemorations and to those in Somerby.