The long and close association Everards Brewery has had with the armed forces was highlighted once again with the production of a new guest beer to help raise money for a memorial for the 10th Battalion, the Parachute Regiment.
Just as its flagship beer, Tiger, derived its name from the Leicestershire Regiment (the Fighting Tigers), the September 2017 brew 'Myrtle' is supporting the Friends of the Tenth campaign to erect a stone memorial in Somerby.
The full story of Myrtle can be found elsewhere on this website, but in short, Lt. Pat Glover of 10 Para wanted to prove that chickens could fly, so he acquired a red hen, Myrtle, in 1944.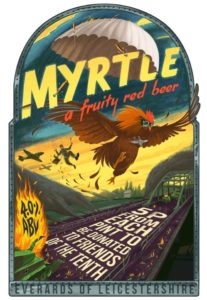 Pat taught her to flutter down 300 ft on practice jumps, but at the Battle of Arnhem, the parachick was 'Killed in Action' along with the vast majority of the Battalion which was later disbanded as a result.
The brewing of Myrtle follows on from Tiger and also the occasion a few years back when Everards combined its brewing skills with an acknowledgement of the WW1 armistice when making Regimental its November special.
On Monday 21st August, Everards' marketing staff, Claire Cannell and Kia Ryan, were on hand at the Cradock Arms in Knighton to launch Myrtle in the company of a small group from the Friends of the Tenth.
Although described as Amber Bitter, Myrtle is more akin to a Red Ale with the complexity and depth of colour that one associates with such beers.
Despite having no fruit in the brew whatsoever, the unusual characteristics peculiar to the Pilot and Flyer hops result in a distinct taste of dark summer fruits such as blackcurrants or blackberries and a roundness of "mouth feel" more associated with a red wine such as Merlot.
Remarkably, it also gives the impression of being far stronger than its 4% (abv) rating, so whilst very easy drinking, there is also something about it that makes you want to savour it respectfully and slowly. In short, exactly the sort of beer that would be perfect with a cheese board or pork pie to be honest.
Everards' monthly beers are seldom available for more than a couple of years, but this one is most definitely deserving of several repeats, not only because I believe it's the best new monthly they've created in three years, but also because of the reason for its existence.
You see, Myrtle did not die in vain and her name lives on because 5p per pint of this commendable brew will be donated by Everards to the Friends of the Tenth to boost their fund-raising for a permanent and fitting memorial in the Leicestershire village of Somerby to the brave young men of the 10th Battalion who were stationed there.